HOMEOWNER August 1991
2 Meeting Street Updated design on a classic of American architecture ...a sense of whimsy and fun.

ARCHITECTURAL RECORD October 1991
If Duany and Plater-Zyberk have become the gurus of a resurging neighborhood movement, it is because their work gives concrete expression to the unfulfilled dreams of American suburbs.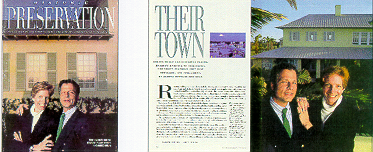 HISTORIC PRESERVATIOIN May 1993
Andres Duany and Elizabeth Plater-Zyberk 's embrace of traditional community planning isn't just nostalgic, it's intelligent.